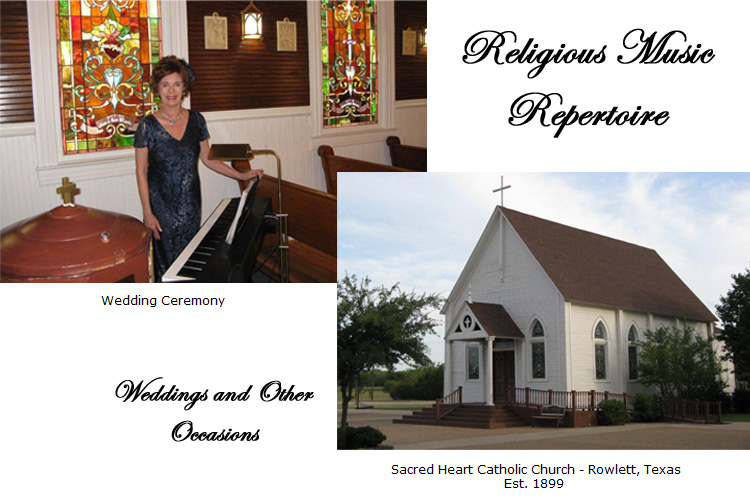 | | |
| --- | --- |
| RELIGIOUS MUSIC REPERTOIRE | |
Abide With Me (Monk)
All Through the Night (Welsh; David Owen)
Amazing Grace (John Newton)
A Mighty Fortress is Our God (Martin Luther)
Angels Watching ( Arr. by Tim O'Neill)
Ave Maria (Schubert)
Be Thou My Vision (Traditional Irish Hymn; Translated by Mary E. Byrne)
Bless the Broken Road (Country; Rascal Flatts) (1st page only for a Unity Candle)
Blessed Assurance (Crosby & Knapp)
Bunnesan (Morning Has Broken) (Traditional Gaelic Melody)
Carol Ann (Michael Smith)
Come, Thow Fount of Every Blessing (Wetzler)
Faith of Our Fathers (Hemy)
Give Me Jesus (Jeremy Camp)
Give Us This Day (R. Roy Coats)
Great is Thy Faithfulness (Runyan)
Hallelujah Chorus (Spiritual Anthem; Handel)
He (Mullan & Richards)
He Leadeth Me (Gilmore & Bradbury)
He Reigns (Newsboys)
Holy, Holy, Holy, (Arr. by Steven Curtis Chapman)
How Beautiful (Twila Paris)
How Great Thow Art (John Newton)
I Believe (Drake, Graham, Shirl, & Stillman)
If We Only Have Love (Jacque Brel)
Immortal, Invisible, God Only Wise (Welsh Hymn Melody; Words by Walter Chalmers Smith)
In Christ Alone (Getty & Townend)
It is Well With My Soul (Bliss)
Jesu, Joy of Man's Desiring (Bach)
Leaning On the Everlasting Arms (Hoffman & Showalter)
Love Lifted Me (Arr. by Randy Owen)
Oh Happy Day (Hawkins)
Oceans (Houston, Crocker & Lighthelm)
O Worship The King (William Croft)
Parent's Prayer (Greg Davis)
Pie Jesu (Gabriel Faure)
Praise God From Whom All Blessings Flow (English; Words by Thomas Ken)
Shuha D-Maryam (A Song for the Virgin Mary) (Traditional)
Take My Life and Let It Be (Words by Frances Havergal; Music arr. from Wolfgang Amadeus Mozart)
The Lord's Prayer (Albert H. Malotte)
The Prayer (Sager & Foster)
There Is Power in The Blood (Lewis E. James)
This I Believe (The Creed) (Fielding & Crocker)
This Is My Father's World (Traditional English Hymn; Babcock & Sheppard)
To Where You Are (Josh Groban)
You Raise Me Up (Josh Groban)
You're Still You (Josh Groban)
Without Love It Will All Pass Away (Beall & Larson)
Wonderful, Merciful Savior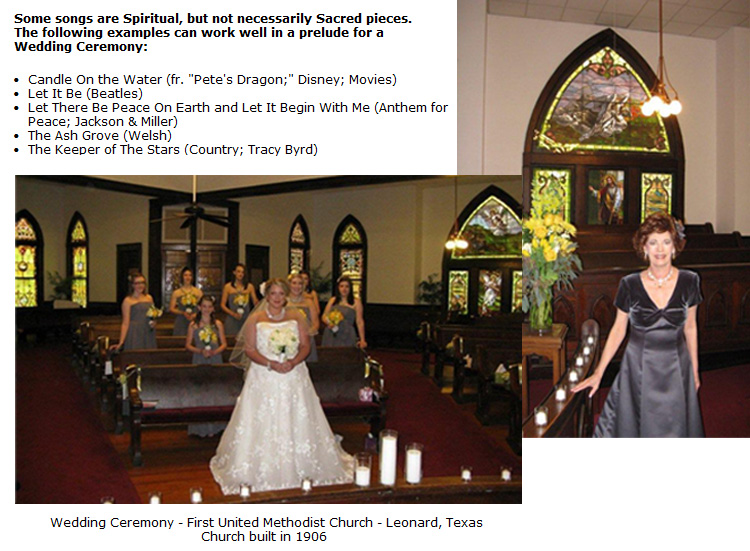 NOTES:

"Come, Thow Fount of Every Blessing" and "How Beautiful"
work together as a lovely Medley.

"Jesu, Joy of Man's Desiring," is a favorite for seating Parents/Grandparents for a wedding ceremony.

"Without Love It Will All Pass Away," has been cut to an accurate length for interlude music. For example:
Unity Candle
Sand Ceremony
Rope Ceremony
A Prayer etc.

"Finlandia," by Sibelius, though considered within the Classical genre of music, has many potential uses. It
is both reverent and uplifting. The popular, religious
hymn, "Be Still My Soul," uses this melody.

For a very dramatic recessional, "Hallelujah Chorus,"
by George Frederick Handel is excellent.



Page Design by Laura